Manufacturers
Solar Powered Airport Video Surveillance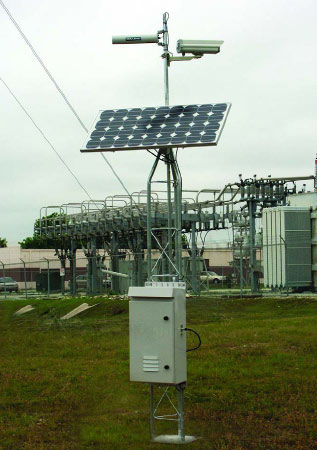 Item no.: 7034
Manufactured by IQMilitary.com

In Stock: Florida USA / Barcelona Spain / Milano Italy / New York USA / Nimes France / Germany / Switzerland
Shipping Weight: 340 lbs.
Airport Solar Powered Video Surveillance Solar Powered IP camera Stand Alone unit (Off-Grid) Camera, Radio and Solar System - The Ultimate Surveillance Solution IP Video Anywhere!
Airport Video Surveillance IP Video Anywhere! Utilizing the best current technology in wireless radios, digital cameras, and solar power, IQMilitary have developed a family of cost effective solutions for remote Military Ruggedized IP video security and surveillance.
Applications:
Military Video Surveillance.
Pipeline Monitoring.
Water Treatments Plants.
Homeland Security.
Public Safety.
Traffic Monitoring.
Remote Surveillance.
Mining.
Monitoring Construction Sites.
---
Cost effective solutions for remote IP video security and surveillance Military Grade. These systems transcend traditional barriers for operating remote-site video by integrating new secure radio technology with feature-rich IP video cameras, powered completely by solar energy. This enables any authorized user with an Internet connected device to view live video located, literally, Anywhere!.
---
System includes the following features:
RF Equipment: Lighting protection and Remote, A family of wireless point to multipoint solutions enabling reliable connectivity for last mile access, campus networking, and security and surveillance.
Camera Equipment Military Grade: Resolutions up to 5 MP H.264 Main profile + MJPEG Compression .60 fps @ 720p, 30 fps @ 1080p, 10 fps @ 5 MP .1, 2 & 3MP WDR Models Available (100 dB)
Up to 8 different motion detection zones per camera.
E-mail/FTP notification on event occurrence.
IP Addressable.
Solar Equipment: Charge controllers, Solar Panel, Solar panel mounts, 16' dual conductor solar Cables, Batteries, Cabinet Equipment.
Systems do not include towers, antennas or coax cable.
Please contact our technicians to determine beast solution.
---
Depending on your specific needs in terms of camera style (standard or dome; resolution; enclosure; type of protection; and environmental conditions) we can custom design your system.
City Surveillance: Video surveillance solutions for City Centers, Intersections, Crime Prevention, and General Surveillance.
Banking/Finance: Video surveillance solutions for Commercial Banks, Credit Unions, Automated Teller Machines, Private Banks, Clearing Houses, and other Financial Institutions.
Commercial/Industrial: Video surveillance solutions for Factories, Warehouses and Manufacturing Facilities.
Education: Video surveillance solutions for Preschools, Primary Schools, Secondary Schools, Community Colleges, Universities, and Satellite Campuses.
Video surveillance solutions for: Hotels, Restaurants, and Shopping.
Government/Law Enforcement: Video surveillance solutions for Municipalities, City Halls, Court Houses, Prisons, Customs and Immigration Offices, Libraries.
Healthcare: Video surveillance solutions for Hospitals, Medical Centers, Pharmacies, Dentistry, Public Health, Biotechnology, and Research Centers.
Retail: Video surveillance solutions for Boutiques, Global Retailers, Retail Centers, Department Stores, Super Markets, Auto Sales, Gas and Convenience Locations, and Vending Machines.
Transportation: Video surveillance solutions for Airports, Helipads, Railway, Bus Terminals, Cargo, and Ferries.