Manufacturers
Solar Battery Enclosure Aluminum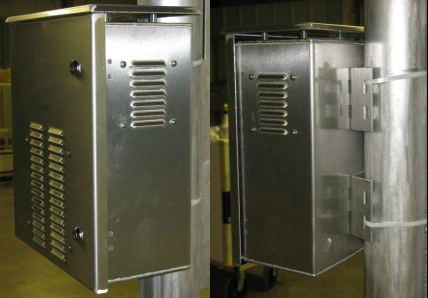 Item no.: 7054
Manufactured by OkSolar.com

In Stock: Florida USA / Barcelona Spain / Milano Italy / New York USA / Nimes France
Length: 9 in.
Width: 16 in.
Height: 20 in.
Shipping Weight: 34 lbs.
Solar Battery Enclosure Aluminum, 1 (one) Battery Group 31, Enclosure Wall Pole Mount Nema.
Enclosures for Batteries group 31 batteries, NENA 3R/12, Aluminum Exterior, Vertical design on Passive venting with dust filtration pads
Electrical knockouts and ground lug hole on rear
Rear-top of enclosure 'hanger' built in for easy installation onto mounting brackets
Vandal resistant mounting brackets and U-bolt sets are sold separately.