Manufacturers
Enclosures Package Solutions
Nema Outdoor Wireless Racking Cabinet Enclosure for 4G, LTE, OTN, Outside Plant Direct Air Cooled, Dual Battery Compartment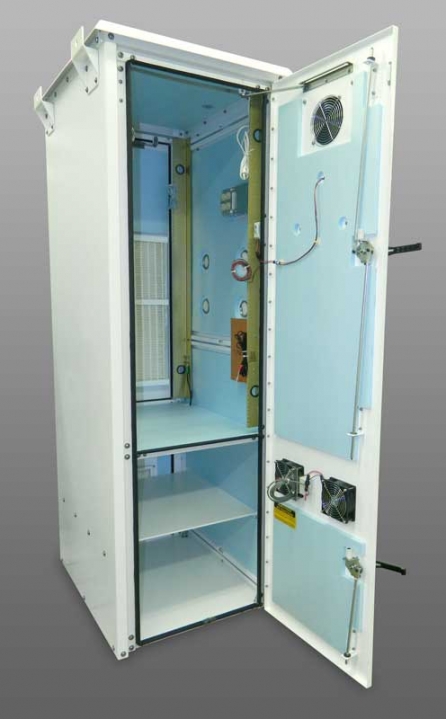 Item no.: 7044
Manufactured by OkSolar.com

In Stock: Florida USA / Barcelona Spain / Milano Italy / New York USA / Nimes France
Length: 34 in.
Width: 25 in.
Height: 80 in.
Shipping Weight: 475 lbs.
Nema Outdoor Wireless Racking Cabinet Enclosure for the 4G / LTE / OTN / Outside Plant (OSP) / CATV / Wireless. Direct Air Cooled.
Top of the line Enclosures we Manufacture and this Assembly is one of the hottest selling assembly's that we sell. Comes with 2 sets of 27 RU's of 19″ EIA Racking Rails. A 600 CFM Fan Unt for Cooling with 300 Watt Heater, R3.3 Insulation, also comes with a Fluorescent Light. Has NO/NC Door Alarm Switch's for notification.
A spool-up side box for fiber or cable spooling is included with a copper ground bar on insulators inside the spool-up box. A separate battery compartment below the equipment space is available for all your battery applications and more. It is ETL certified.
Total Occupied Space 80.625″H x 35.5″W x 44.15″D
Top Compartment: 48.6″H // 2 Bottom Compartment: 25.875″H (12.82 each Battery Section)
**To Accommodate our Large Amp Batteries** VBB-M12V155FT or VBB-M12V180FT
Outdoor Enclosure with Front and Rear Door
Useable Depth: Maximum: 30.5" Minimum: 28.75″
Front and Rear sets of Adjustable 19" or 23" racking.
2 Sets of 27 Racking Units is Top Compartment
Racking Rails 48.72″H / Tapped 10/32, / (2) Pass Thru Holes.
Heavy Duty Lifting Hooks.
Powder Baked on Textured White Paint. 300 Watt Heater Strip 110 Volts
Dual compartment design, 600 cfm direct air cooled (DAC) top compartment and fan cooled battery compartment using (2) 5", 48v, 110cfm fans and thermostat. 45"H x 26"W x 10"D Side box with removable plywood back-plate with a total of (5) 2" cable pass through openings; (4) for the primary compartment and (1) for the battery cables. 12" Copper ground bar on 14"risers with isolators.
Dual panel AC load center with 50amp back-up generator plug. Interior convenience outlets and 220V supplied junction box for DC power system. See electrical layout.
DAC (direct air cooled) system is driven by a 9" diameter, 600 cfm, 48v fan drawing air through a 2" thick MERV 16, GR-487 Salt Fog filter.
---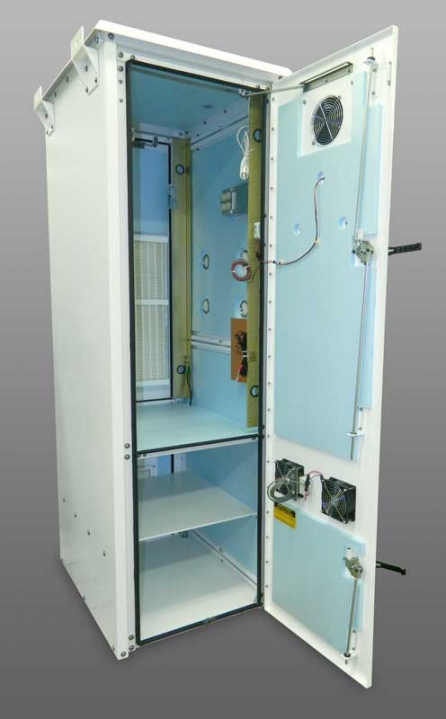 ---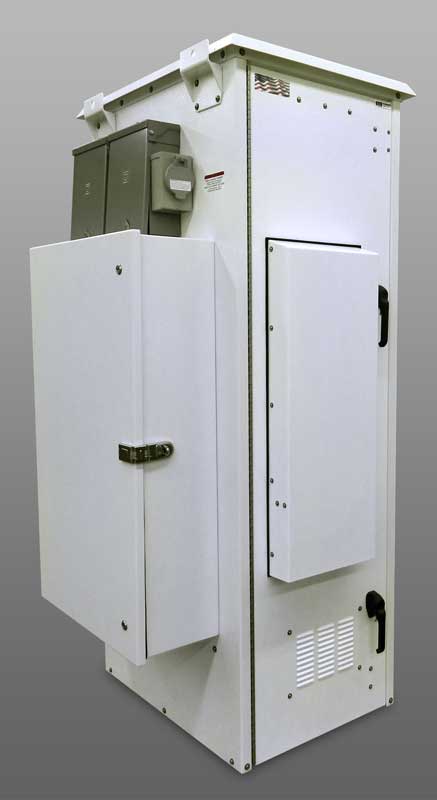 ---
Racking Spec Layout.
STANDARD EIA 19″ Racking.
EIA-310 is a specification for what is often called the "standard rack". This specification standardizes several important features of 19″ racks, such as the Rack Unit (RU or U), vertical hole spacing, horizontal hole spacing, rack opening, and front panel width. The specification also set tolerances on each of these dimensions.
---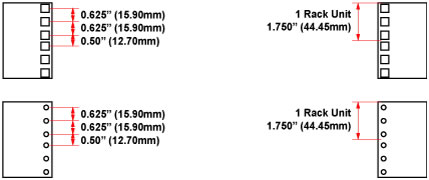 ---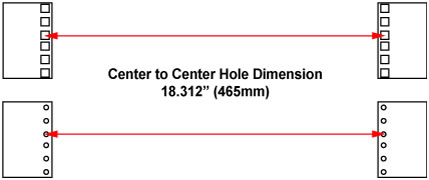 ---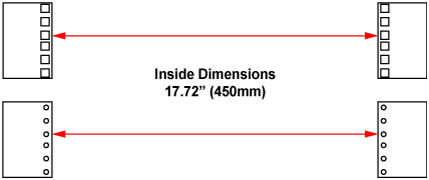 ---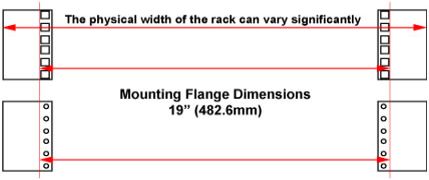 ---

---

---