Manufacturers
Solar Taxiway Light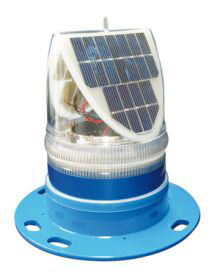 Item no.: 7023
Manufactured by OkSolar.com


Shipping Weight: 8 lbs.
Solar Taxiway Light - Solar Aviation Light. FAA and ICAO.
Applications: Solar Obstruction Light, Solar Threshold Light, Solar Barricade Light, Solar Caution Light.
Peak Intensity (cd)†
Steady-on:
Blue - 2.8
Red - 6.8
Green - 9.0
White - 7.0
Yellow - 6.5
Flashing:
Blue - 5.5
Red - 18.2
Green - 21.9
White - 19.1
Yellow - 15.1
Compliances:
FAA AC150/5370-2E for construction and barricade installations
ICAO Annex 14 Volume 1, 'Aerodrome Design and Operations', Fourth edition July 2004, paragraph 5.3.17.7.
The solar powered Aviation light that offers enormous benefits over traditional battery and hard-wired aviation lights including low maintenance and no underground wiring.
These completely self-contained LED lights are designed to suit a range of aviation and general applications including emergency airstrip, caution, taxiway, and threshold lighting.
The unit has two high-performance solar modules mounted within the lens, which maximize solar collection and provide reliable operation in a range of environmental conditions.
The focal plane of the light is designed to provide a vertical divergence of between 0 and +7 degrees, and the user-replaceable battery ensures a service life of up to 12 years.
The Aviation Light is made from tough, durable UV stabilized LEXAN® polycarbonate, and incorporates an internal photodiode for automatic night activation once the ambient light threshold drops sufficiently. Completely self-contained and able to be installed in minutes, the Aviation Light is the preferred choice of remote airfields throughout Australia - where the units mark indigenous and regional council's airstrips, and mining strips around the country. 
---
Aviation Light-HI The Aviation Light is a high intensity version of the popular Aviation Light and is ideal for use in high sunlight areas that receive a minimum of 3.5 hours of sun per day.
---
Features ƒ
CE Certified.
ƒ
Integrated solar/battery system ƒ
Dual internal high-performance solar modules angled to maximize solar collection ƒ
Fast & easy to deploy – no programming
IP68 waterproof rating
User-replaceable battery in sealed battery compartment ƒ
Ultra-high intensity LEDs (no changing globes ever)
Automatic night activation
Tough UV-stabilized LEXAN® polycarbonate lens and light base
Dual internal high-performance solar modules
LED aviation lens with 0 to +7° vertical divergence
Band of retro-reflective tape

---

Sectored Combinations, Various combinations of colored and IR lights listed above upon request.

---

---

---

---

---

---

---

View of light with Optional mounts:

---

---

---

---

---

---

---

Optional Radio Control Including PALC The RF is a radio-controlled version of the popular unit, which can be used in conjunction with a PALC or simple handheld controller. Users can wirelessly control ON/OFF functions, adjust light intensities, change colors or switch between visual and IR (tactical) ­operational modes. ­

---

The Solar Booster™ can be connected to the light to provide additional solar collection for charging the battery. The Avlite Solar Booster™ can be used in areas of reduced sunlight to help ensure optimum battery charge.

---

---

---