Manufacturers
Solar Marine Lantern Marine Navigation Light Coast Guard Intelligent Navigation Aids 4 Mautical Miles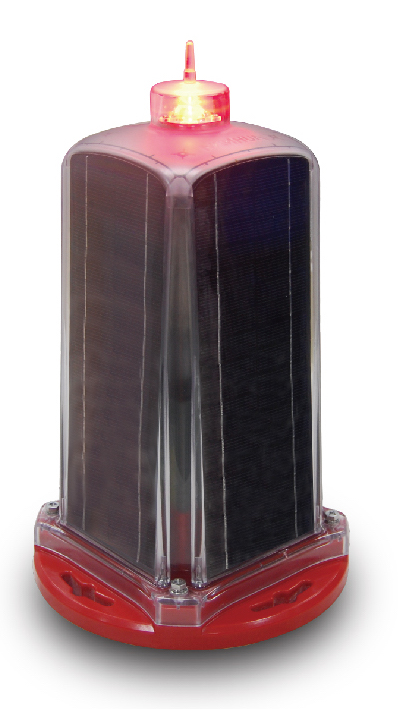 Item no.: 7205
Manufactured by IQAirport.com

In Stock: Florida USA / Barcelona Spain / Milano Italy / New York USA / Nimes France / Germany / Switzerland / Global
Shipping Weight: 16 lbs.
Solar Marine Lantern, Marine Navigation Light, US Coast Guard, Self Contained LED Lantern "Name Number One Intelligent Navigation Aids". Color RED
Applications
Solar Marine Lantern, Marine Navigation Light, Applying to ocean buoy, river buoy, aquaculture, offshore oil platform, port or other fixing and floating aids to navigation.
---
Main functions and features.
Based on LED technology, and its color complies to IALA Recommendations E-200-1.
Integrated design, enabling a rugged and completely waterproof seal capable of prolonged and deep immersion (IP68).
PC housing,UV resistance, shockproof and corrosion proof. With bird spike.
256 kinds of flashing rate are available, comply with IALA.
Intensity is adjustable continuously. Photocell controls On/Off automatically and the value of luminance switch can be adjusted.
Built in sealed lead acid battery, free maintenance and easy for replace.
Extremely Reliable and cost saving.
External charging power is available( Optional) .
GPS synchronization(Optional).
GSM faulty alarm function(Optional).
---
Flashing Only, Do Not Set for Steady ON
---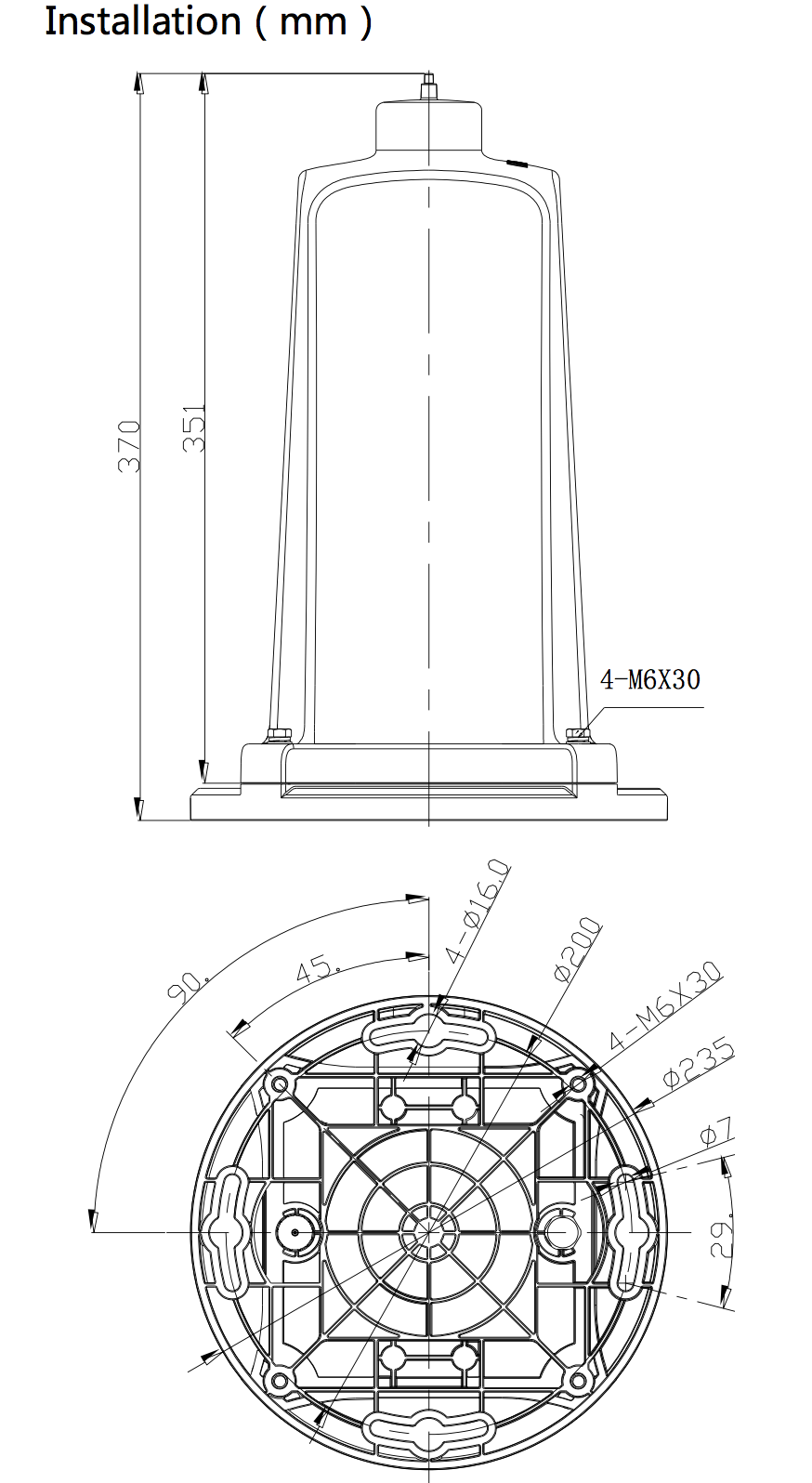 ---
---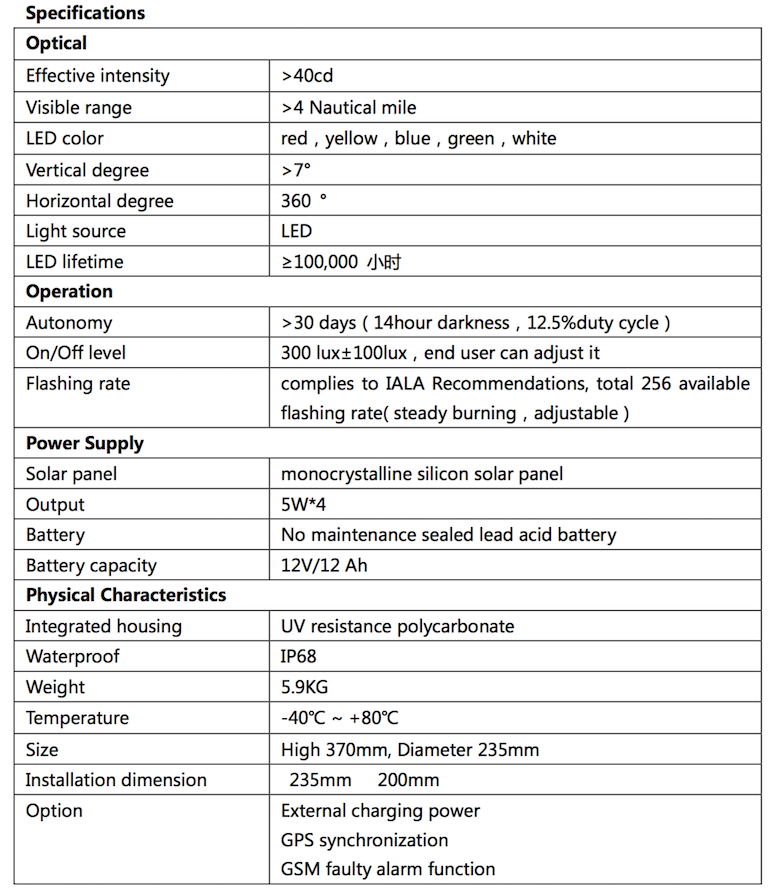 ---
Standard Color Red - you can request: Yellow, Blue, Green or White.
---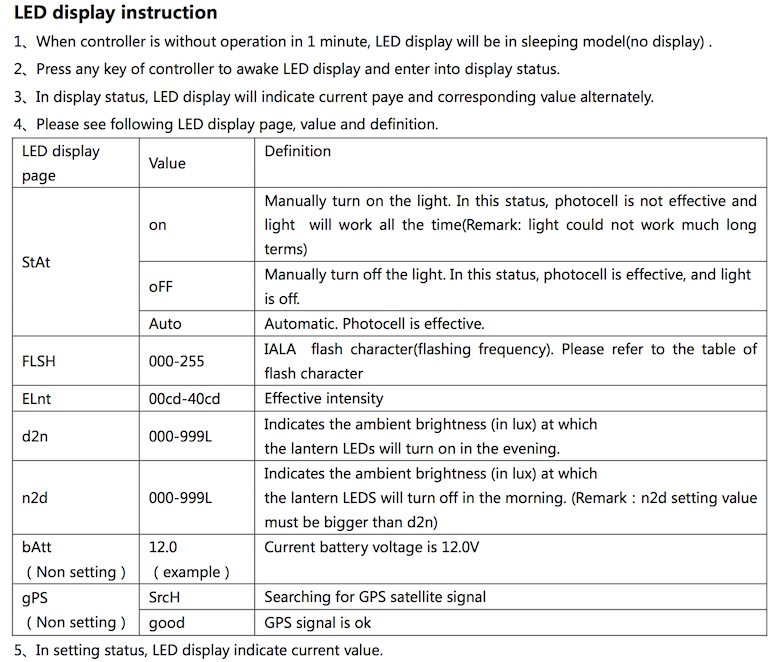 ---
---
World Daily Solar Radiation Zones
---
---

---