Manufacturers
Solar Obstruction Lights FAA
Solar Powered Obstruction Light FAA approved L-810 LED Single Fixture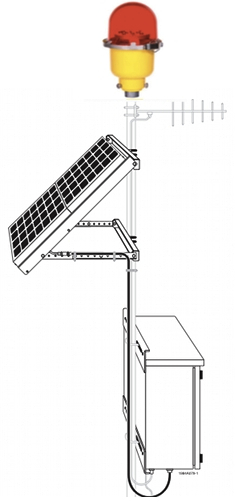 Item no.: 7085
Manufactured by IQAirport.com

In Stock: Florida USA / Barcelona Spain / Milano Italy / New York USA / Nimes France / Global
Shipping Weight: 245 lbs.
Obstruction Solar FAA approved L-810 LED Light, certified and tested FAA L-810 Single Fixture Obstruction Light. FAA L810 RED LED Obstruction Light Solar Powered.
FAA L-810 Double Obstruction IQAirport.com has developed the 103400 (Solar-powered L-810 Aviation Obstruction Light) packaged system to provide obstruction lighting for towers and structures. The 103400 (Solar-powered L-810 Aviation Obstruction Light) is a complete packaged solar power system and LED High Power Obstruction Light.
The system uses an FAA type L-810 single or double red LED obstruction light. Power to the light is supplied by a IQUPS VDC solar power system consisting of a solar module, sealed maintenance-free batteries, and a temperature-compensated Microprocessor charge controller with day/night detection.
The entire system is designed for quick installation and can be mounted to a 2 SCH40 pole (2.375 O.D.). An LED light is used for low power consumption. Day/night detection of the obstruction light is controlled by the Microprocessor solar charge regulator which uses the solar array to sense day/night conditions. The solar regulator also prevents the battery from being overcharged or deep discharged. An integral temperature sensor automatically adjusts the battery charge voltage to compensate for temperature fluctuations for extended battery life.
The Solar-powered L-810 Aviation Obstruction Light packaged system is the optimal choice for FAA obstruction lighting applications where reliability is a must.
Complete packaged solar power system and Obstruction Light. The system uses an FAA type L-810 single or double red LED obstruction light. IQAirport.com 103400 series (Solar-powered L-810 Aviation Obstruction Light) system are the optimal choice for obstruction lighting applications where reliability is a must.
Solar Power Obstruction LED Lighting System:
Zone Type: To determine the Zone that you are in Click Here for Information on World Daily Solar Radiation Zones
---
Solar Radiation Map: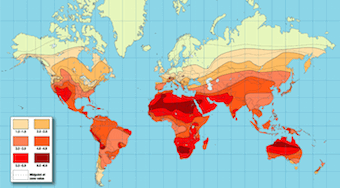 ---
System includes:
Fixtures: Luminaries IQLED Meets Chromatic and Visibility Requirements.
Solar Panel.
Structure for solar panel: Pole mount Adjustable 0-45 horizontal and 360.
Microprocessor controlled Charge controller and Timer.
Batteries: Long-Life - Deep-Cycle - Maintenance-Free.
Detailed instruction manuals included in every system.
Packaging information: Brown Box (Individual Packing for each part and Palletized).
SYSTEM OPERATION:
The system converts the suns energy into electricity and stores it to provide green illumination plus three days worth of backup energy.
Activation Switch On/Off:
A microprocessor automates the functions of the system automatically activates form sunset to sunrise; has a timer, regulating the hours the light stays on; also regulates the battery, preventing overcharging and protecting against discharging.
Optional on/off:
Remote wireless.
Remote Broadband Control Monitor and Data Logging Software displays real time and history PV, Battery and Fixture Light.
Technical Information:
Light Source Type: High Power LED.
High Power LED Rugged Waterproof Design.
LED fixture rated to withstand mechanical vibration per MIL-per MIL-STD 883, test method 2007, using three 4-minute cycles along x, y and z axis, at a force of 2.5 Gs, with a frequency sweep from 2 Hz to 120 Hz.
Manufactures in accordance with MIL Specs, ISO 9001:2000, ROHS Compliant parts Quality.
Solar Cell type: Mono or Polycrystalline.
Battery Type: Deep Cycle Recycle Sealed, Maintenance-Free.
Reserve: 3 Days under Cloudy conditions (optional 5-7-10 days)
Temperature of work environment: Optimal Ambient -20 to C (-4 to 77 F).
Maximum Ambient Temperature: -40 to C (-40 to 176 F).
Compliances:
ETL Listed to UL 1598 US & CSA C22.2 No.250.0-04 Canada
ETL Listed to UL 1598A Marine Vessels
ETL Verified FAA L-810 to FAA Advisory Circular 150/5345-43F
Verified to ICAO Annex 14 Low Intensity Types A (10 cd) & B (32 cd)
Benefits:
Easy installation no wiring required.
Installing and moving is easy no more waiting for the utility company!
Proven technology. Vandal and theft-resistant components and hardware. All parts are corrosion resistant.
Low installation cost.
Easily and quickly deployed in almost any location.
NO wiring run from the grid.
NO cuts through existing roads, sidewalks or landscaping.
NO Maintenance.
NO Utility bill.
Maintenance Free Batteries!
Better Color Rendition & Nighttime Visibility.
No Warm-Up or Cold Start Problems.
Component lifetime of 25 years.
---
FAA L-810 requires 32.5 candelas minimum over 10-deg vertical beam spread Exceeds the recommendation of ICAO Low Intensity Type B (32 candelas).
---
PHOTOMETRIC DATA FAA VERSION

---

---

---