Manufacturers
Solar Obstruction Lights ICAO
Solar Powered ICAO Low Intensity Obstruction Light Type A
Item no.: 7084
Manufactured by IQAirport.com

In Stock: Florida USA / Barcelona Spain / Milano Italy / New York USA / Nimes France
Shipping Weight: 16 lbs.
Solar powered ICAO LIOL Type A is a robust, completely self-contained solar powered LED obstruction light.
The 310 model has four 3 watt (12watt total) premium-grade solar modules integrated into the solar chassis, and mounted to collect sunlight at all angles. The 410 model has four larger 5watt panels (20 watt total) for use in areas of lower sunlight to maximize solar collection.
The solar array charges an internal battery during daylight hours, and at dusk the light will automatically begin operation.
The rugged design of this self-contained light ensures up to 12 years of reliable service with minimal ongoing maintenance. Specifically designed for the harshest of environments, this light features a 7-stage, powder-coated aluminum top, base and internal chassis in high visibility colors for daytime recognition.The rubber,extruded corners provide additional impact resistance.
The advanced light optic uses a single power LED.The tough polycarbonate aviation lens is specifically designed for use with LEDs to maximize light intensity and uniformity.The light optic is interchangeable between units, and can be replaced onsite in the unlikely event of damage.
The unit can be supplied in varying color outputs to suit other applications including runway edge lighting. For military applications the unit is also available in infrared (IR).
---
Optional External ON/OFF Switch & External Charging Port
These models can be fitted with an optional,external ON/OFF switch.The light can also be fitted with an optional external charging port for charging the battery while it is stored for extended periods.
---
Optional GPS Synchronisation
Utilize the latest advancements in GPS technology to develop an internal synchronisation system that can be incorporated into the lights. Using overhead satellites, multiple obstruction lights set to the same flash pattern will flash in unison.
---
Compliance:
Low intensity Type A Obstruction Light, ICAO Annex 14 Volume 1,'Aerodrome Design and Operations',
Features:
Integrated Solar/Battery System
User replaceable solar modules.
IP68 waterproof ratting.
Available in two power supply sizes to suite various locations.
Optional GSM Monitoring Model 410
---
Optional IR Remote Control
The IR remote is used to communicate with Avlite lighting products that have an IR sensor fitted.The remote control is used to control functions such as flash code and light intensity.
---
Optional GSM Cell-Phone Monitoring
---
The 410 model is available with GSM Cell-Phone Monitoring enabling operators to remotely monitor the status of their aviation installations.The system can also be configured to send out alarm SMS text messages to designated cellular telephone numbers. Users can also have alarms and reports sent to designated email addresses
---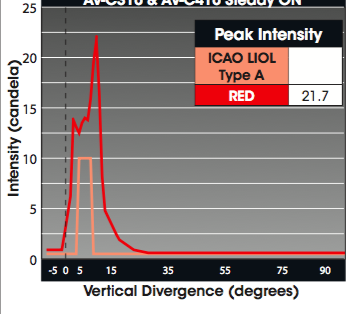 ---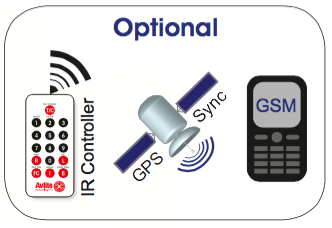 ---
---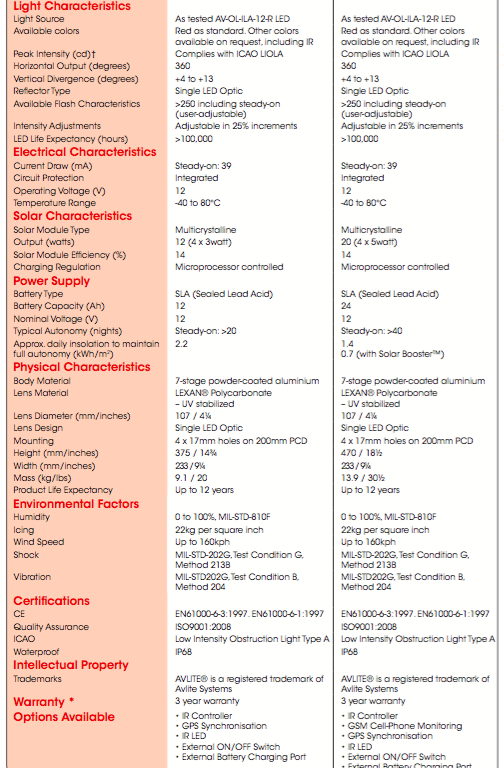 ---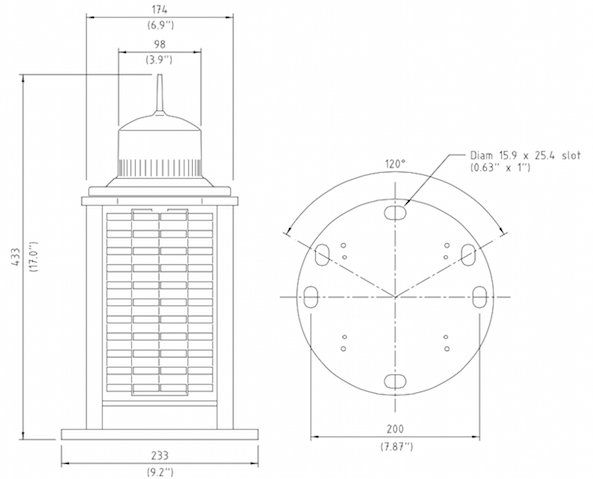 ---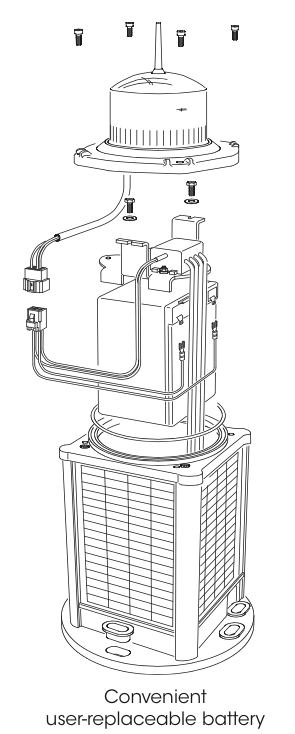 ---

---

---