Manufacturers
Traffic Signal Mounting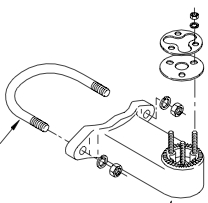 Item no.: 7217
Manufactured by IQTraffiControl.com


Shipping Weight: 7 lbs.
Traffic Signal Mounting, Signal Mounting
Easy Mounting bracket, hardware for virtually any side-of-pole signal mount requirement. Standard assemblies come in iron or aluminum with 1-1/2" NPT fittings. Tri-stud, tri-bolt and 1-1/2" NPS fittings are options. Our vast assortment of hub plates allow vertical assemblies to be mounted to any type or size of pole.