Manufacturers
Enclosure Explosion-Proof Aluminum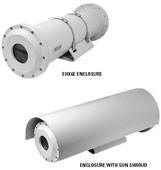 Item no.: 8089
Manufactured by IQMilitary.com

In Stock: Florida USA / Barcelona Spain / Milano Italy / New York USA / Nimes France / Germany / Switzerland
Shipping Weight: 25 lbs.
Explosion-Proof Camera Aluminum Enclosures, Explosion-Proof Camera enclosures
---
explosion-proof security camera enclosure manufactured by Pelco to provide high quality use in a variety of different setups where hazardous and dangerous environments exist. The EHX6E-16 security camera enclosure comes with an adjustable mounting cradle, an Aluminum construction, an IP66 rated exterior, as well as a compact size, and dust and weather resistance. The EHX6E-16 security camera enclosure also features testing under rigorous requirements of dust-ignition proof and explosion proof electrical equipment that are to be installed within potentially dangerous environments, and comes simple to install for all operators.